---
Larsen Associates Electronics Manufacturers Representatives of Silicon Valley, California, USA
Technical Electronics Sales Representation & Marketing Services - Silicon Valley Based - World Markets Served™
Semiconductor, Medical, Aerospace, Scientific, Commercial, and Military sectors
---
---
---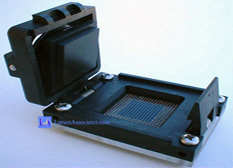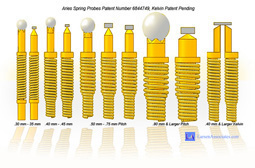 Aries Electronics products are designed and made in the USA. IC Test Sockets and IC Burn-in Sockets LF and RF, Custom IC Adapters "Correct-A-Chip" for use in place of spinning a board, Horizontal and Vertical Display Sockets and more, Standad, Semi-Custom to full Custom Solutions, Ask Us. Made in the USA
BGA / LGA / QFN / SOP / CSP

Aries Electronics Test Sockets and / or Burn-in Sockets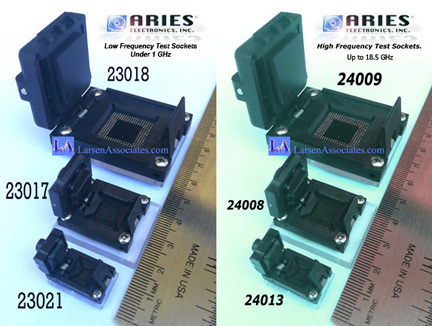 Test Sockets and / or Burn-in Sockets
- For Any SMT Device & Any footprint!
- Low Frequency or High Frequency
- For Any Pitch from 0.2mm and up
- For Any Mixed Pitch
- For Any Foorprint configuration
- No Tooling charge, small set-up
- No extra extra lead-time
- For Test: 1GHz up to 18.5 GHz
And / Or
- For Burn-in: -55C to +150C.

- Guaranteed perfect fit and contact.
- Performance and perfect fit Guranteed
- Higher performance with Lower cost
- Performance and perfect fit Guranteed
- Higher performance with Lower cost
- CSP, Micro, BGA, LGA, RF, ZIF, QFN, SOIC, TSSOP, DFN, PQFP, MLF, µBGA, Bump-Array, QFN, QFP, MLF, DFN, SSOP, TSOP, SOP, LCC, PLCC, TO, RF, ZIF and Any Surface Mount smt Package Style with leads or without Leads plus most PGA packaged devices. Standard & Custom, Any SMT device 0.2 mm pitch & up
More High Frequency solutions to over 40 GHz
IC Adapters "Correct-A-Chip"
- Modules, Standard & Custom IC Adapters - Modules, Standard & Custom
Don't Spin! Think Aries IC Adapters instead!
Proto to Production Volumes. Standard & Custom IC Modules Custom IC Adapters "Correct-A-Chip" for use in place of spinning a board.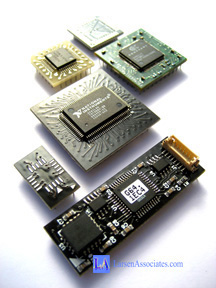 IC Adapters "Correct-A-Chip"®
"Save Money, Save Engineering Time, Save Time to Market"
"Your Problem Solved Quickly and Cost Effectively"

Custom Breakout Boards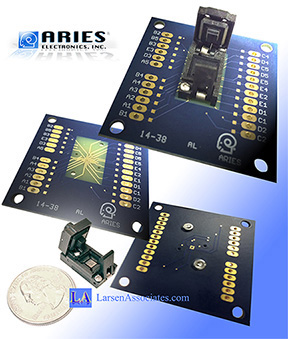 Custom Breakout Boards and Test Fixtures for IC Test Sockets


Display Sockets & Interconnects - The largest selection of standard horizontal & vertical display sockets of any manufacturer plus custom sockets and pick & place versions. Plus a variety of Standard and custom interconnects.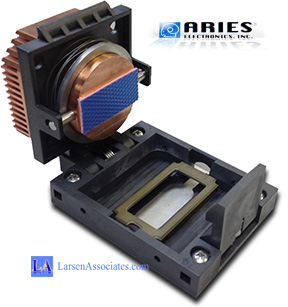 Aries Custom Heatsink IC Test and Burn-in Socket

Aries Electronics Designed and Made in the USA.
---
Exatron Automated Handlers, Laser Markers, Testers, Pick & Place, Laser Marking, Tri-Temp, Programming, MEMS, High UPH, Serialization,Tape & Reel,Rotary, and Gravity Feed Handlers. And Burn-in Board Loader / Unloader Transfer machines. Exatron Thermal Dut Bosard Top or Desktop Portable Workstation Prototyping Engineering Work Station. Tabletop Mini IC Test Handler. All Computer controlled machinery. Made in the USA.
Exatron
- An ATE USA Designer, Manufacturer, & Integrator of Automated Handling, Automated Testing Equipment, Laser Marking, Machine Vision, Sorting, Packaging, Assembling, Programming,Tape and Reel equipment for Lab use, Engineering and Production Applications.
- Exatron specializes in Custom Computer Controlled Machinery Design, Manufacturing & Integration. Pick and Place, Gravity Feed, Rotary, MEMS, Machine Vision, Laser Marking, Desktop Laser
- Exatron serves the IC Integrated Circuit Industry, Medical Industry, Military Industry with cage code, MEMS, Commercial & Industrial industries.
- Exatron equipment is Made in the USA in San Jose California, Since 1974. A USA Manufacturer & integrator of a wide variety standard, custom, and building block components serving the World Wide Market. Designs customized exactly for your needs.
Exatron: "Building beyond your expectations Since 1974"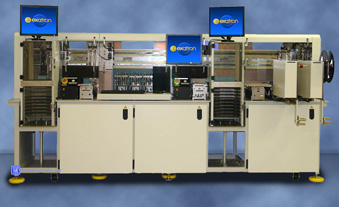 IC Handler, forming, vision inspection, with tape and reel.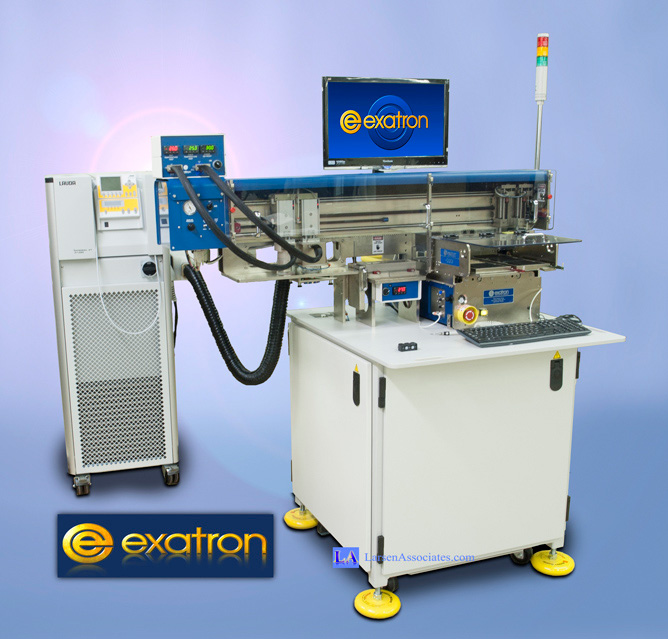 - Tri-Temperature IC Handler Hot Ambient Cold -55C. Computer Controlled, no change over kits required.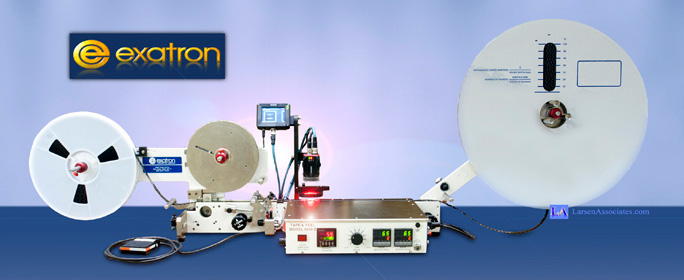 - Exatron Manual Taped designed and built by Exatron in San Jose California. Available with or without vision also available with automatic feed.
Exatron's New Wide Temperature Range Single Test Head Thermal Head IC Test Handler No Fluid, No Frost Build Up, minimum range of -55C to +155C
- Exatron's Tabletop, Mini IC Test Handler, single site, pick and place ATE Handler. Desiged and Made in the USA, Starting Under $30K
Prototype Engineering Work Stations (PET), designed for the hand testing of individual electronic devices, ICs, under precise controlled conditions of heat and cold without the expensive and diffucult of liquid fluid, or an inaccutrate thermoelectric module peltier. Exatron's state-of-the-art refrigeration system. Simply better.

- Exatron is a San Jose California based Designer, Manufacturer, & Integrator of Automated Handling, Testing, Laser Marking, Machine Vision, Sorting, Assembling, Programming, Serialization, equipment for Engineering & Production Applications. Exatron is also an official USA Government Supplier, Cage Code 49176
- Exatron specializes in Custom Computer Controlled Machinery by incorporating Exatron Standard Building Blocks. These high reliability Building Blocks enable Exatron to build your custom machine from proven standardized parts and then customize the details to meet your exact needs & requirements.

Exatron: Designed, Manufactured, and Built in California.
---

Chupond America:
High Volume Standard and Custom Production Volume Sockets & Connectors, and Asian Sourcing.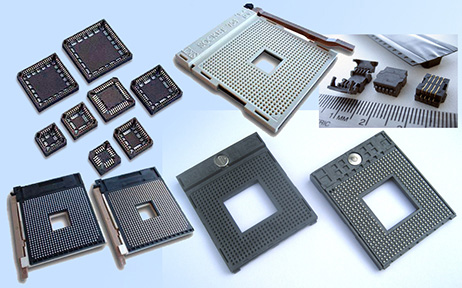 An American interface sales and design company for Asian Manufacturers of production medium to high volume IC sockets & interconnects. Standard & Custom design manufacturing and sourcing capable.
-Also: Asian Sourcing for any and all sockets & connectors for kits and BOMs. Lower your BOM costs with direct sourcing of exact, duplicate, or replacement parts. Factory direct with American interface.

- Socket 478
- Socket 754 K8
- PLCC SMT TH
- Socket & Connector BOM & Kit Sourcing
- Flash Socket 8 & 16 pin

Need a medium to high volume custom part? Chupond's American interface can design and source the best most cost effective part from the best offshore source with total confidence. Tell us your needs, ask us today!
Chupond America: American interface with Major Offshore Manufacturers.
---


High Precision Devices:
USA. HPD Specializes in bringing your technical product concept, or lab instrument, or technical equipment to comercial product or laboratory ready reality. With a full array of Engineering Services, Design Services, Fabrication Services, Precision CNC Services, which includes this location to Outsorce your design, inspection, analysis or QA functions all in the USA. HPD can provide the unique services customized to your exact needs.


World-Class Precision Instrument R & D and Manufacturing of Scientific Instruments & Systems, and Precision CNC Machining specializing in precision mechanical instrumentation integrated with optics, cryogenics, electronics, vacuum & UHV. Cryostats, plus specialized products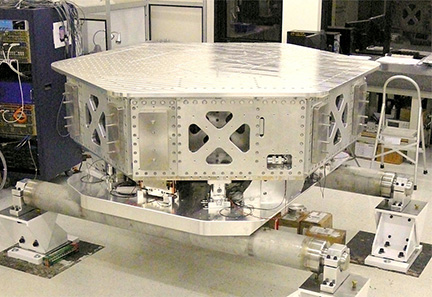 LIGO Gravity Wave interferometers HAM-2 Seismic isolation platform, SEI, by HPD
Scientific, Medical, Aerospace, Semi-conductor, Telecom, Commercial, Military, Lab Research, University
HPD: Builds one-of-a-kind instruments & prototypes, & provides high-quality, small-volume manufacturing, and Contract Precision CNC Machining
Specialty: Transformation of laboratory instrumentation into field-capable instruments, tell us your needs today.

High Precision Devices Designed and Made in the USA
---
Thank you for visiting Larsen Associates, we appreciate your time and business!
04/23/2019